For orders, quotes and enquiries please email edengreenpaknz@gmail.com or phone (NZ +64): 06 344 2942 or text 027 237 8877.
Please note
WISHING YOU AND YOURS A MERRY X-MAS AND A PROSPEROUS YEAR 2023
THE WAREHOUSE OF EDEN Eco Products Ltd IS CLOSED BETWEEN JANUARY 1st and JANUARY 16th.
For sale: 2017 Hyundai IONIQ electric vehicle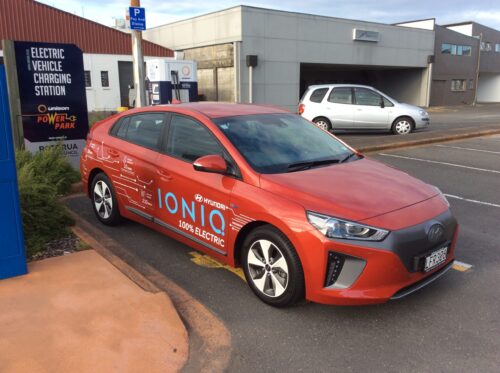 This 100% electric Ioniq is for sale.
5 seater, front wheel drive, 88 kW motor, auto, 28kWh battery
This amazing car:
March 2018 this car was a Hyundai dealer's demo from West Auckland with just 400 km on the clock. Has been to Kaitaia and Bluff and everywhere else without a hitch. As it is fully electric, you need to know where the chargers are, lots of them throughout New Zealand. Your smart phone will be handy! Charging overnight at home, a home charger with a 3-point plug is included! Say 'Good Bye' to fuel!
This Ioniq has set the DNA for the actual newcomers Hyundai Ioniq5 and the Kia EV6. The newest Ioniq6 is almost a copy, very streamlined. It will be hard to find a more power economic model. It has adaptive cruise control, lane assist, auto wipers, tyre pressure monitor, key less entry, 3-stage regenerative braking, home charger, split back seats, Bluetooth, Dual Climate zone, manual and heaps more. Never had kids, pets or smokers inside. Never been in a road accident. The car looks in and outside like new. Even the driver seat doesn't show wear. Recently 4 new tyres with wheel alignment, new windscreen wipers and a new 12V battery. Ready to go up to 1 million k's!
The best thing, no carbon emissions, clean for the environment!
A SOH (State Of Health) test for the main battery has been done with the dealer, and after 175,000 kms it's still at 100%, with hardly detectable loss of power noticeable. If a battery cell gives in, it's possible to recondition that cell. This car has minimal maintenance and consumption costs. Has had all maintenance services done by the Hyundai dealer.
Top speed of 160 km/hour. It has sport mode for fast acceleration. Very comfortable to drive. So quiet, no engine sounds, just road noises indicating that it's driving.
For sale now. Asking price NZD33,000. Free delivery nationwide is negotiable.
(Click HERE for more product information and photographs etc)

PRODUCE BAGS
Price each incl GST $NZ
Pcs / carton

Dimensions in mm LxW
length x width

Material
Quality
GP1
$1.122
1000

600 x 300
Clear
Clear 5kg
GP2 RUNNING OUT
$0.116
2000

500 x 250
Clear
Clear 3kg
GP25
N/A

2000
350 x 320
Semi opaque, lettuce
Semi Opaque, out of stock
GP27
$0.138
2500
390 x 370 conic
Clear; cauli's, lettuce, etc
Clear; width top 370, bottom 150mm
GP3
N/A
2000
430 x 220
Clear
Clear 2kg
GP30
$0.02
2000
430 x 220

Semi opaque
Semi Opaque 2kg
GP4
N/A
2000
310 x 200
Clear
Clear 1kg
GP4O
$0.02
2000
310 x 200
Semi opaque
Semi Opaque 1kg
GP5
$0.07
4000
295 x 148

Clear
Clear 0.5kg
SP2
$0.124
2500
430 x 220
cornstarch
80% clear 2kg
SP0.5 special
for light duties $0.037
8000
295x148
cornstarch
80% clear 0.5kg
SP1 special
for light duties $0.0465
5000

310 x 200
cornstarch
80% clear
SP2 special
for light duties $.062
3400
430 x 220
cornstarch
80% clear
(Click HERE for more product information and photographs etc)

| PRESS LOCK BAGS | Price incl GST $NZ | height mm | width mm | number bags per carton | note |
| --- | --- | --- | --- | --- | --- |
| GF7 | $14.70 per 100 | 380 | 220 | 2000 | with hole on top |
| GF4 | $11.70 per 100 | 270 | 195 | 3000 | with hole on top |
| GF1 | $10.60 per 100 | 210 | 190 | 3000 | with hole on top |
| GF6 | $9.50 per 100 | 190 | 130 | 3000 | with hole on top |
| GF3 | $9.30 per 100 | 175 | 100 | 5000 | with hole on top |
| GF2 | $7.30 per 100 | 145 | 75 | 5000 | with hole on top |
| GF5 | $6.30 per 100 | 90 | 65 | 8000 | with hole on top |
(Click HERE for more product information and photographs etc)

DOGGY WASTE BAG
Price NZD incl GST
length
width
gusset

Description
SGD
$7.30 /100
245mm
245mm
0 mm
Flat bag 50 bags per bundle
SD200
$14.60 / roll
260mm
150mm
70mm
Side gusseted 200 bags on a roll
SD500
$36.50 / roll
260mm

150mm
70mm

Side gusseted 500 bags on a roll.

SD500 OUT OF STOCK
(Click HERE for more product information and photographs etc)

| HERB BAGS | Price incl GST $NZ | Length | Width | Side Gusset | Description |
| --- | --- | --- | --- | --- | --- |
| G3 | $4.00 per 100 | 270 | 105 | 34 | Clear, transparent |
| G30 | $2.00 per 100 | 270 | 105 | 34 | Semi-opaque |
(Click HERE for more product information and photographs etc)

| TRASH BAGS | Price incl GST $NZ | Dimensions | Number bags per carton | Description |
| --- | --- | --- | --- | --- |
| | | | | |
| SB004 | $0.428 each | 800x550mm | 500 | volume around 40 ltrs. Ideal for food waste in larger (commercial) kitchens |
| SB0051 | $0.22 each | 560x430mm | 1000 | ideal for 8 - 10 ltrs kitchen waste with built-in tie on top |
| G002 | $0.40 each | 900x600+240mm | 500 | with handles on top like a t-shirt shopping bag |
| G240 | $0.65 each | 1500x725+400mm | 200 | fits a 240ltr wheeliebin |
(Click HERE for more product information and photographs etc)

| BAG ON A ROLL | Price incl GST $NZ | Dimension bag | Bags per roll | rolls / carton | Transparency | | | | | | | |
| --- | --- | --- | --- | --- | --- | --- | --- | --- | --- | --- | --- | --- |
| GC8 bioplastic | $29.40 per roll | 375x200+170mm | 300 | 8 | 95% | | | | | | | |
| GR1 bioplastic | $29.00 per roll | 350x250mm | 500 | 10 | 95% | | | | | | | |
| GC3 bioplastic | $10.00 per roll | 370x200+170mm | 300 | 8 | 50% | | | | | | | |
| SS33 cornstarch | NO STOCK, sorry | 375x250+100mm | 300 | 6 | 85% | | | | | | | |
(Click HERE for more product information and photographs etc)

SHOPPING BAGS
Price incl GST $NZ
number
per carton
Height

Width
Gusset
SB01
$0.159 each
1000
375mm (530 handles included)
345mm


205mm
SB04

SB04 OUT OF STOCK


$0.116 each
2500

270mm (400 handles included)
220mm
140mm
(Click HERE for more product information and photographs etc)

| PLANT BAGS | Price incl GST $NZ | Length | Width | Side Gusset | Description |
| --- | --- | --- | --- | --- | --- |
| GPP1 | $0.112 each | 280 | 145 | 140 | Black bag |
| GPP2 | $0.102 each | 280 | 130 | 125 | Black bag. Equivalent to PB6.5 |
| GPP3 | $0.077 each | 225 | 125 | 120 | Black bag |
| GPP4 | $0.067 each | 200 | 100 | 95 | Black bag |
| GPP5 | $0.062 each | 195 | 90 | 85 | Black bag. Equivalent to PB2. |
(Click HERE for more product information and photographs etc)

| OTHER BAGS | Price incl GST $NZ | length | width | transparency | Description | |
| --- | --- | --- | --- | --- | --- | --- |
| SB11 | $0.092 each | 240mm | 195mm | 80% | cornstarch flat bag | |
| SB12 | $0.12 each | 335mm | 250mm | 80% | cornstarch flat bag | |
| SD2 | $0.073 each | 245mm | 245mm | opaque | cornstarch flat bag | |
| GC6 | $0.115 each | 350mm | 250mm | clear | Carry hole on top; bottom-gusseted | |
| GC7 | $0.048 each | 200mm | 250mm | clear | bottom-gusseted bio bag | |
| GW | NOT AVAILABLE | | | opaque | Non-transparent white carry bio bag 85 micron. | |
| | | | | | | |
(Click HERE for more product information and photographs etc)

| CORNSTARCH CUPS & LIDS | Price incl GST $NZ | Imperium volume in oz | Number per carton | Number per sleeve | Height/diam top/bottom | Description (click HERE for more product information and photograhs etc) |
| --- | --- | --- | --- | --- | --- | --- |
| SC030 | $0.078 each | 1 | 3000 | | 33x44x25mm | no lids |
| SC100 | $0.09 each | 3 | 2000 | | 40.x70x48mm | |
| SCL76 | $0.09 each | | 2000 | 50 | | new 90/100 ml cup SC100 takes SCL76 lid |
| SC150 | $0.076 each | | 1000 | 100 | 66x76x45mm | ideal for water dispenser |
| SC200 | $0.09 each | 6 | 1000 | | 82x76x50 | ideal for water dispenser |
| SCL76 cup lid | $0.09 each | | 1000 | 100 | | flat lid, no hole |
| SC300 | $0.19 each | 10 | 1000 | 50 | 80x | |
| SC360 | $0.237 each | 12 | 1000 | 50 | 102x | |
| SC420 | $0.296 each | 16 | 1000 | 50 | 106x121x96 | beer, smoothie, etc |
| SC500 | $0.29 each | 17 | 1000 | 50 | 126x125x96 | beer, smoothie, etc |
| SC600 | $0.42 each | 20 | 1000 | 50 | 140x137x96 | beer, smoothie, etc |
| SCL96 cup lid | $0.097 each | | 1000 | | | flat lid with hole for straw |
| SCL96D cup lid | $0.119 each | | 1000 | | | dome lid with hole for straw |
(Click HERE for more product information and photographs etc)

| COFFEE CUPS & Acc | Price incl GST $NZ | Pieces / carton | Volume ounces | Volume cc | Note |
| --- | --- | --- | --- | --- | --- |
| J285H | $0.113 each | 1000 | 10 oz | 285 | 292mm high |
| J360H | $0.12 each | 1000 | 12 oz | 360 | 108mm high |
| J420H | $0.143 each | 1000 | 16oz | 450 | 138mm high |
| J78H lid | $0.105 each | 1000 | | | Lid for 10,12,16 ounce cup |
| J78CH sleeves | $0.038 each | 2000 | | | Sleeve for all cups |
| PCC-2C tray | $0.162 each | 600 | | | Holder for 2 cups |
| PCC-4C tray | $0.25 each | 300 | | | Holder for 4 cups |
| J250H | $0.098 each | 1000 | 8 oz | 225 | |
| J68H | $0.086 each | 1000 | 8 oz | 225 | |
(Click HERE for more product information and photographs etc)

| BAGASSE PLATES & CONTAINERS (HOT) | Price incl GST $NZ | Number per carton | Volume | Description |
| --- | --- | --- | --- | --- |
| QB17H | $0.189 each | 500 | 600ml | Burger box, off-white |
| QB06H | $0.169 each | 1000 | 600ml | Hinged-lid container, light brown |
| QB07H | $0.22 each | 1000 | 1000ml | Hinged-lid container, light brown |
| QP01H | $0.136 each | 500 | | Round side plate, 178 mm, light brown |
| QP03H | $0.15 each | 500 | | Round plate, 230mm, light brown |
| QL08H | $0.16 each | 500 | 500ml | Bowl, off-white |
| QL04BH | $0.14 each | 500 | 350ml | Bowl, off-white |
| QS04H | $0.12 each | 1000 | 350ml | Bowl, light brown |
| QL04H bowl lids | $0.11 each | 500 | | Lid for QL08H/QL04BH bowls, off-white |
| QSL08H bowl lids | $0.07 each | 1000 | | Lid for QL08H/QL04BH bowls, light brown |
| QC02H | $0.082 each | 1000 | 60ml | Bowl, light brown |
(Click HERE for more product information and photographs etc)

| PLA BOWLS & CONTAINERS | Price incl GST $NZ | Number per carton | Length | Width | Depth incl lid | Description |
| --- | --- | --- | --- | --- | --- | --- |
| SPF3005 | $0.289 each | 1200 | 175 | 112 | 40 | Hinged lid clear container, middle to top |
| SPF3001 | $0.195 each | 1600 | 130 | 67 | 40 | Hinged lid clear container, middle bottom |
| STC103 | $0.23 each | | 180 | 120 | 30 | Hinged lid clear container, right top |
| SP500 | $0.335 each | 500 | | 121 at top | 70 | Round clear bowl, 500ml, 108mm width at top |
| SP700 | $0.377 each | 500 | | 143 at top | 70 | Round clear bowl, 700ml, 108mm at top, 70mm deep |
| SCL121 bowl lids | $0.162 each | 500 | | 121/143 | | Clear lids for SP500/SP700 bowls. |
(Click HERE for more product information and photographs etc)

| CUTLERY | Price incl GST $NZ | Description |
| --- | --- | --- |
| KS7H DISCONTINUED | $4.80 per 200 | Stirrer/icespoon, 131mm long. |
| K4H6 | $8.20 per 100 | Spoon, 155mm long. |
| K4H7 | $9.30 per 100 | Spoon, 167mm long. |
| K1H6 | $8.20 per 100 | Fork, 167mm long. |
| K2H6 | $8.20 per 100 | Knife, 160mm long. |
(Click HERE for more product information and photographs etc)

| POPSTARCH FILL | Description | Price incl GST $NZ |
| --- | --- | --- |
| PSLF | Popstarch fill - a fully biodegradable alternative to polystyrene for protecting breakable products in packaging. Sold in 340 litre bags. | TBA |
| | | |