Overview of produce bags
Two bags, middle picture, same bio material, one clear and the other semi opaque.
All semi opaque G-series produce bags are on special at $0.02 each
($2.00 / 100) !
The clear GP27 back in stock!
New development makes it possible manufacturing produce bags from cornstarch material. Easier for composting, easier for the environment.
Also to note, clearness/transparency of the produce bags to be rated as follows:
– bioplastic material at 95% (top picture and left bag middle picture)
– semi opaque bioplastic material at 50% (right bag on middle picture)
– cornstarch material at 85% (bottom picture)
All bioplastic produce bags in bundles of 100.
The 3 small bioplastic bags GP5, GP4 and GP3 are replaced respectively by cornstarch bags SP0.5, SP1 and SP2, now in bundles of 200.
The bioplastic GP5 still in stock.
To reduce costs, items may be repacked for the best shipment costs option. Please note the new order codes. Sizes bags are listed in previous page. Ordering any quantity is ok, preferably in lots of 100 for the bioplastic and in lots of 200 for the cornstarch produce bags.
The new cornstarch SP2  2kg (same size as the GP3) at  $0.124 each, 2500 pcs / carton and available in lots of 100.
The quality of the first badge of cornstarch bags, not holding up as expected, are now at HALF PRICE. Only to be used for light duties.
SP1 almost clear 1kg  (same size previously GP4) $0.0465 each, $9.30 /200
SP0.5 almost clear 0.5kg (same size previously GP5) $0.037 each, 8000 $7.40 / 200
SP2 almost clear 2kg $0.062 each $12.40 / 200
Now there is the new stronger cornstarch SP2 in stock, in bundles of 100 at $12.40 /100.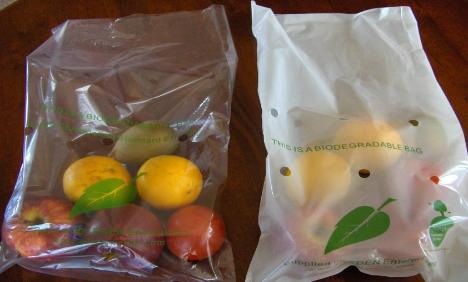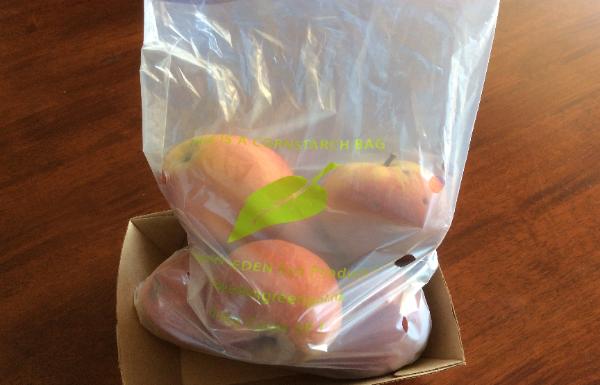 conic produce bag GP27